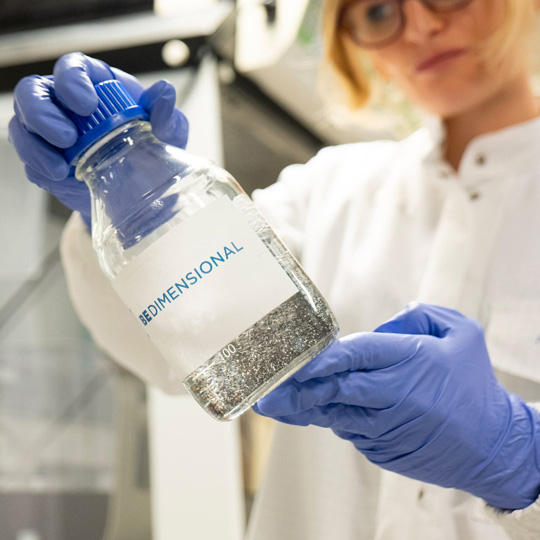 Eigenmann & Veronelli signs an exclusive distribution deal with BeDimensional for the selling In Italy of innovative products based on two-dimensional crystals used in the production of high performance painting and polymetric composites.
Rho (MI), 9th July 2021 
Eigenmann & Veronelli, a leader in the distribution of chemical specialties and food ingredients, and BeDimensional, a start-up that born as a spin-off of the Istituto Italiano di Tecnologia in Genova, specialized in the production of two-dimensional crystals with few atomic layers (ISO / TS 80004-13: 2017), have signed an exclusive deal for the marketing in Italy of innovative products based on two-dimensional crystals used in the production of high-performance paints and polymeric composites.
"We are confident that E&V, through its distribution network and specific technical application knowledge, is the right partner to distribute our innovative products to a wide range of commercial partners" declared Andrea Gamucci, Direttore Tecnico of BeDimensional.
"Specifically, we are talking about very efficient products in anti-corrosion and thermal and electrical management, and polymeric composites that combine rigidity and impact resistance that are much higher than the standard".
"This deal is an important step in our commercial strategy and we are thrilled that BeDimensional decided to entrust us with this mandate" commented Mauro Avidano, Direttore Commerciale of Eigenmann & Veronelli. "The new product line is an innovative extension of our current portfolio and we are pleased to promote it to our customers, with regard to those who have a strong interest in innovating and expanding their offer in a distinctive way ".
Eigenmann & Veronelli
Eigenmann & Veronelli group, founded in 1910, is a top player in the world of Italian chemistry, with a propensity towards international development and a direct presence in Spain, Turkey and Russia. The Group employs over 350 employees, with a consolidated revenue in 2020 of 297.4 M euros, and for over a century synonymous with effectiveness in combining local market knowledge and international chemical innovations, in creating value for its customers and suppliers for the distribution and production of specialty chemicals and food ingredients.
For more info pkease visit www.eigver.it